Family Resources
Here are some highly recommended services that might meet the needs of your family:
Tax Issues
Legally Nanny
phone: 714-336-8864  |  www.legallynanny.com
Legally Nanny provides all the legal and tax advice you need to hire a nanny or other household employee legally. Hiring legally can cost as little as 4% more and avoids the danger of getting caught or facing an IRS audit. We fill out all the forms and handle all the legal, tax and insurance issues so you can save money and spend more time with your family.
Breedlove
phone: 888-BREEDLOVE  |  www.breedlove.com
Since 1992, Breedlove & Associates has handled all the federal and state payroll and tax paperwork for busy families, processing more than $100 million per year in payroll. With simple-to-use online tools and unlimited access to tax and labor law experts, Breedlove has earned a reputation throughout the industry for excellent customer service that makes the tax, legal and insurance obligations simple and affordable. Feel free to call for a no-obligation phone consultation compliments of Rent-a-Parent Personnel Services.
Use Breedlove's Tax Calculator:
breedlove-online.com/payroll-calculator
---
Marin Preschool Directory
www.MarinPreschoolDirectory.com
The Marin Preschool Directory is the #1 site for preschools and family resources in Marin County!
---
Marin County Tutor
Beverly Ames
415-328-3441  |   tobeverly@att.net
I have a Masters Degree in Reading and Language Arts with a graduate degree in Early Childhood Education. I am friendly, patient and knowledgeable with over 10 years of teaching experience in Marin County. I am a member of Marin's Educators in Private Practice. I view every child as an unique individual, so I use a personalized approach for each student that allows me to help him or her to succeed. I'll provide interesting and fun materials with various activities in each session. The tutoring sessions are tailored to the student's strengths and challenges. Recommended time: 45-60 minute session
Location: In your home or at your nearest library. Serving all cities in Marin County.
Fee: $55 per session
---
Dog Walking/Pet Care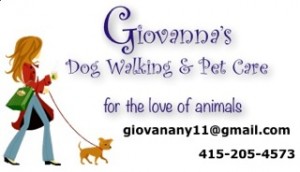 ---
Sleep Consultation
"Sleep consultation that meets the needs of the whole family."
Angelique Millette PhDc, MFTt, PCD/CD (DONA)  |  Phone:  415.785.4180
Sleep consultation
Family bed/crib/room sharing
Infant colic/reflux/high needs
Infant/toddler/child
Parent coach
In home & phone consultation
angelique@angeliquemillette.com
www.angeliquemillette.com
---
Children's Dentistry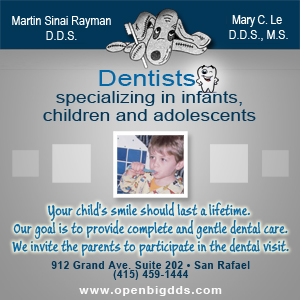 ---
Au Pair Needs
Au Pair Foundation
Phone: 415-257-4783 ext. 217  |  Toll free in the US: 1-866-428-7247  |  Fax:415-257-2207
www.aupairfoundation.org
---
Aesthetician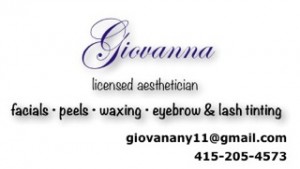 ---
Child Photography
Nina Leva, Photographer  |  www.NinaLeva.com
Capturing heart to heart moments between parents and children. Portraits and Weddings  |  photos@ninaleva.com
---
Kindermusik
Melissa Ayotte, Kindermusik Maestro
(415) 721-1929  |  www.musicwithmelissa.com
Music With Melissa offers Kindermusik Classes for ages Newborn to 4 years, Piano instruction for ages 5 and up, and give a Baby Sign Language Parent Workshop about once a month.  Both music and sign language have been shown to truly enhance a child's development in the early years and Melissa is great at showing parents how easy, and fun, this can be.  Visit Melissa's website www.musicwithmelissa.com or phone her (415) 721-1929 for details. "Long after the toys of Childhood are forgotten, the gift of Music remains."  Anonymous
---
Event Planning
Events by Elizabeth provides full-service event planning for a variety of social events including weddings, holiday gatherings, cocktail parties, galas and much more. Whether the occasion is for 2 or 2,000, we are committed to exceeding your expectations by consistently introducing new styles, concepts and modern ideas.  Allow yourself the luxury and confidence of working with an innovative and creative team to help you develop that individual look for your special event.
Elizabeth Korondy
Sales@EventsbyElizabeth.com | www.EventsbyElizabeth.com
Office: (415) 886-7175 | Mobile: (415) 306-6946
---
Doula
Ozzie Ozkay-Villa
Phone: 415-246-5161  |  o_ozkay@yahoo.com
www.doulamarin.com
Labor Support
Post-Partum Support
Placenta Encapsulation
"If a doula were a drug, it would be unethical not to use it." -John H. Kennell, MD
---
Cancer Outreach
The purpose of Nancy's List is to assist and support those individuals who are living with cancer to have a more enjoyable, comfortable experience as they travel this mysterious journey, hand in hand with people who care.Rent-a-Parent donates through Nancy's List to help any parent going through cancer treatment.
---
Acupuncture and Herbal Medicine
"Ancient Wisdom, Modern Medicine"Anne Cabrinha, M.S., L.Ac., supports men and women in their fertility challenges.  She also focuses on women's general health issues such as PMS, painful periods and menopausal symptoms.  She is a practitioner at Balance Restored Center for Integrative Medicine in Mill Valley, next to Tamalpais High School. Anne is currently investigating acupuncture's role in IVF treatment at UCSF.
415-381-8500 ext. 5  |  www.balancerestored.com